How it Works

1. Provide us the sequences (preferably in text format – Word File)
1. Provide us the sequences (preferably in text format – Word File) – i.e. place the order

2. Interact with our experts
2. Interact with our experts

3. Receive your report
3. Receive your report

4. Any iterations as deemed necessary
4. Any iterations as deemed necessary
About US
Preparing the list of sequences (DNA/Peptide) to be provided in a Patent, complied with the PTO norms and regulations
RIGHT IP FILINGs to Avoid Unnecessary Office Actions
There are inventions dealing with peptide and/or DNA sequences such as inventions related to biomarkers, inventions related to Antibodies, inventions related to Oligonucleotides etc. where there is a requirement to file the DNA/Peptide sequences at the time of filing the patent application so as to clearly depict the disclosed sequences. The sequences provided in the patents are to be complied with the PTO filing regulations following the required norms and regulations. Patent offices may require applicants to file sequence listings in a standardized format.
✓ An outsourcing service provider for meeting US (37 CFR §§1.821-.825) and foreign (WIPO Standard ST.25) Sequence Listing requirements

✓ Team of Experts familiar with Standards of Sequence Listing

✓ EXTREMELY EASY AND COST-EFFECTIVE

✓ Helping law firms, in-house, and sole practitioner patent attorneys and agents for compiling a PTO compliant Sequence Listing
Resources
Read Interesting Insights about Patent Search Services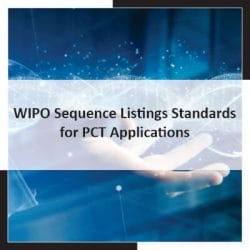 Just like each and every aspect of a patent application is crucial, sequence listing is equally an indispensable part of it. Sequence listings become a part of your biological patents where amino acid and nucleotide sequences disclosure is mandatory. Indeed there are certain standards for filing sequence listings in both national and international applications. Here[…]
Previous
Next
Have Questions? Get In Touch. Contact Us Now.